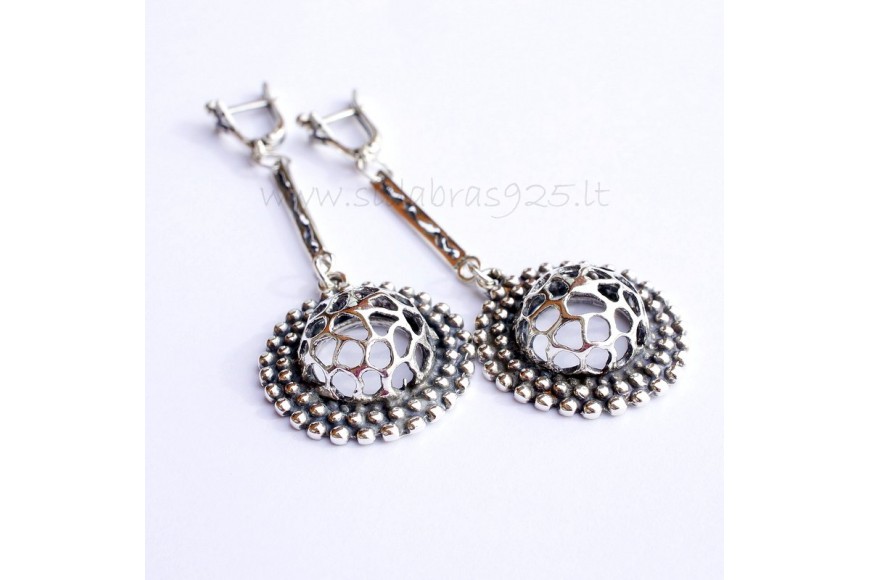 Sidabras – vienas seniausiai žmonijai pažįstamų ir jos vertinamų metalų. Iš šio brangaus metalo pagaminti papuošalai ar juo dengti indai jau 3 tūkstančius metų ne tik puošia žmogų, buitį, bet ir saugo nuo sunkių ligų, nes sidabras turi baktericidinių savybių. Sidabras dedamas į vaistus ir kosmetikos priemones. Romėnai savo žygių laikais saugojo geriamą vandenį sidabro induose arba mesdavo sidabrines monetas į vandeniui skirtus indus, tokiu būdu vandenį galima buvo naudoti dar ilgą laiką ir jame neatsirasdavo ligas sukelianžių bakterijų.
Sidabras mūsų organizme – tai tarsi "antroji imuninė sistema". Patekęs į vienaląsčius gyvus organizmus (bakterijas, grybelius, parazitus), naikina ligų sukėlėjus, išveda juos iš organizmo. Senovės indų knygose minima, kad vanduo buvo dezinfekuojamas ilgai laikant sidabrą vandenyje. Šventinant šulinius į juos buvo metamos sidabrinės monetos, vanduo buvo laikomas sidabriniuose induose ir t.t. Ir stalo sidabras buvo ne vien tik turtingumo atributas. XIX a. pabaigoje tyrinėtojai atkreipė dėmesį į kai kurių metalų dezinfekuojančias savybes, Tyrimai parodė, kad difterijos lazdelės ant sidabrinės plokštelės žūdavo per tris dienas, ant varinės – per šešias, o ant auksinės – per aštuonias dienas. Stafilokokai atitinkamai žūdavo ant sidabro – per dvi dienas, ant vario – per tris ir ant aukso – per devynias dienas. Šiltinės lazdelės ant sidabro ir vario plokštelių žūdavo jau per 18 valandų. Taip pat buvo nustatyta, kad sidabras turi stipresnį nei kiti metalai baktericidinį poveikį, nes jis greičiau prasiskverbia į ląsteles. Sidabras veikia mikrobų ląsteles todėl, kad jį sorbuoja (sugeria) ląstelių apvalkalai, jis blokuoja bakterinius fermentus ir ląstelė žūva. Akademiko L. Kulskio, visą gyvenimą pašventusio sidabringo vandens tyrimams ir jonizatorių kūrimui, duomenimis, sidabringas vanduo yra aktyvesnis už chlorą, chlorkalkes, natrio hidrochloritą ir kitus tokios pat koncentracijos oksidatorius. Sidabras – ne tik taurusis metalas. Jis būtinas ir normaliam organizmo funkcionavimui mikroelementas. Jis veikia profilaktiškai, stiprindamas imuninę sistemą. Senstant organizmui, sumažėja jo sugebėjimas įsisavinti sidabrą, todėl atsiranda sidabro trūkumas, silpnėja organizmo atsparumas su visomis galimomis pasekmėmis. Koloidinio sidabro vartojimas yra vienas saugiausių ir efektyviausių būdų, leidžiančių organizmui gauti papildomą sidabro kiekį. Koloidinis sidabras yra biologiškai įsisavinamas, kadangi jis tiesiogiai įsiskverbia į organizmo audinius. Koloidinis sidabras – tai sidabro molekulių sankaupa, kuri plūduriuodama vandenyje netirpsta ir nereaguoja su juo. Koloidinės molekulės turi nedidelį elektros krūvį, jos stumia viena kitą ir todėl nuolat juda, susiburdamos su didesnėmis vandens molekulėmis (taip vadinamas Brauno judėjimas). Svarbu tai, kad koloidinio sidabro molekulės būdamos mažesnės nei virusai ar bakterijos, laisvai prasiskverbia į patogenus ir sunaikina juos. Beje, šis metalas savo poveikiu mikroorganizmams yra stipresnis netgi už naujausios kartos antibiotikus – jis kompleksiškai naikina ne tik bakterijas, bet ir virusus. Dabartiniai antibiotikai kovoja tik su bakterijomis. Veikdamas kaip natūralus antibiotikas, sidabras sunaikina per 650 ligas sukeliančių organizmų. Be to, sidabras yra netoksiškas, jis stimuliuoja kaulų priaugimo procesą, kartus pagreitina pažeistų audinių gijimą ir t.t. Koloidinis sidabras gali sėkmingai kovoti ir su vėžiu. Dr. R. Beckeris rašo, kad "...Sidabras, kurio krūvis yra teigiamas, veikia vėžio ląsteles, sustabdydamas jų mitozę..." Kitas medikas mokslininkas G. Smith, atlikęs daug bandymų su vėžiu, sak "Vėžio gydymo sėkmė priklauso nuo esančio ligonio organizme sidabro kiekio, o nesėkmę sąlygoja sidabro trūkumas..." Sidabras yra sėkmingai išbandytas ir kovoje su AIDS.
Įsitikinti sidabro bakterinėmis savybėmis galite ir patys: į du puodukus pripilkite vandes ir į vieną jų įmerkite sidabrinį šaukštelį. Po kurio laiko viename puodelyje vanduo susidrums, jo sienelės pasidengs žalsva plėvele. Tačiau tame puodelyje, kuriame mirko sidabrinis šaukštelis, vanduo bus daug saidresnis. Beje, šis metalas savo poveikiu mikroorganizmams yra stipresnis netgi už naujausios kartos antibiotikus – jis kompleksiškai naikina ne tik bakterijas, bet ir virusus.
Sidabro papuošalai baltų kraštuose pasirodė pirmaisiais amžiais po Kr. Tai iš Romos imperijos provincijų įvairūs įvežtiniai dirbiniai: sidabriniai indai, denarai, segės ir kt. Pats ankstyviausias sidabrinis dirbinys, įvežtas iš Pareinio, yra II a. Profilinga segė, rasta Kuršių k., Tytuvėnų vls. Žymiai daugiau sidabrinių papuošalų atsiranda Lietuvoje viduriniame geležies amžiuje (V – VIII a.). Be paminėtų šaukštinių ir viela apvyniotais galais antkaklių, kurios tebebuvo vartojamos vidurinio geležies amžiaus pradžioje, aptinkame visą eilę naujo tipo papuošalų. Daugiausia sidabrinių dirbinių turime iš naujojo geležies amžiaus (IX – XII a.) ir jau istorinių laikų pradžios. To meto sidabrinės antkaklės yra buvusios gana įvairios. Būdavo puošiami žąslai, balno kilpos, diržai ir kamanos.
Šiuolaikiniai sidabriniai gaminiai daug sudėtingesni, kuriuos kuriant daug įvesta natūralių akmenų, kurie taip pat spinduliuoja tam tikrą akmens energiją. Jei jūs irzlūs, nervingi, neramūs ir pan. – padės sidabras. Ant rankos riešo yra daugiau kaip 400 aktyvių taškų, susijusių su inkstais, kepenimis ir širdimi. Ant tam tikrų pirštų užmauti žiedai nuolat veikia biologiškai aktyvius taškus.
Nešiojami sidabro papuošalai: sidabriniai žiedai, sidabriniai auskarai, sidabriniai pakabukai, sidabriniai vėriniai ar sidabrinės apyrankės - liesdamiesi prie kūno, skleisdami aplink save antibakterinį lauką veikia labai teigiamai, kaip aprašyta anksčiau, taip pat tai ir labai gražu. Pasipuošęs sidabro papuošalu tu lyg išreiški savitumą, originalumą. Tat ir neatsižvelgiant į sidabro gydomąsias savybes, sidabriniai papuošalai yra taurūs, prabangūs dirbiniai, kuriuos galima palikti ateinančioms kartoms.
Tat mūsų sudėtingiausia misija - sukurti grožį sidabre sielai ir kūnui !